Salvation
SALVATION

THE GOSPEL OF OUR SALVATION


You are the sinner, found guilty in God's sight, and bound for hell, when you die.
Then you will be raised again and stand before God at the great white throne judgment.
You will be judged, your guilty sentence announced, and you will be cast into a burning lake of fire for all eternity.
There is absolutely nothing you can do to save yourself. Some One has to do it for you.
That some One, is Jesus Christ our Saviour.
You are saved, or, justified in God's sight, ONLY after you believe in our Saviour Jesus Christ, AFTER putting your faith in the blood, which Christ shed for all your past, present and future sins, of which Christ has already done, on your behalf.
Unsaved people are under Satan's control until they see the light of the glorious Gospel, which is believing in Jesus, after putting their faith in the blood, and being fully persuaded , as Abraham was, that God will do exactly what He has promised.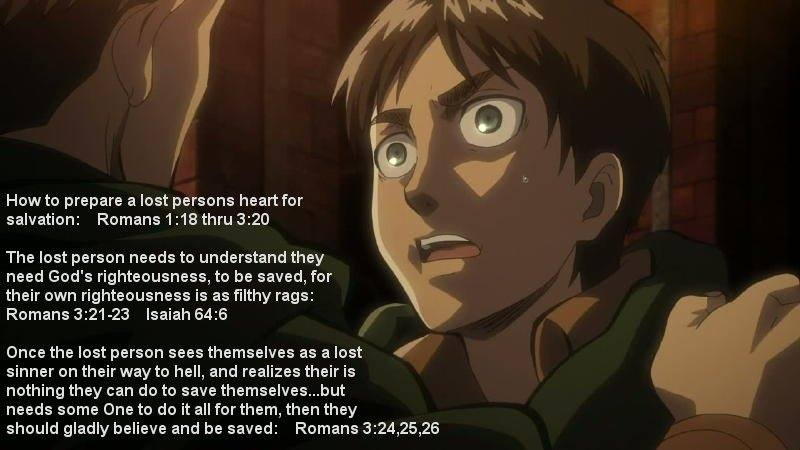 The lost and hell bound sinner, will find everything necessary for their soul salvation, in Romans Chapters 1 thru 4.
Romans 1:18 thru to Romans 3:20 is all about evil tidings convincing the lost person that they are sinners on their way to hell, and that they can do nothing to save themselves. They have been found guilty by God, and will die and go to hell.
Romans 3:21 to 28 is the gospel that saves the lost person. The lost person finds out that they have been freely forgiven, Romans 3:24, that they need to put their faith in the blood, Romans 3:25, and then believe in Jesus for their justification in God's sight,(salvation)...being fully persuaded like Abraham was that God will do exactly what he promised, and is also to perform, Romans 4:21.
God, Himself, believes that the shed blood of Christ paid for all of our sins. So, who are we not to believe what God believes...that faith in Christ blood shed for all our sins, and being justified by believing in Jesus, saves us, and this alone?
The Gospel Declared!
Romans 3:19-21 (KJB)
[19] Now we know that what things soever the law saith, it saith to them who are under the law: that every mouth may be stopped, and all the world may become guilty before God.
[20] Therefore by the deeds of the law there shall no flesh be justified in his sight: for by the law is the knowledge of sin.
[21] But now the righteousness of God without the law is manifested, being witnessed by the law and the prophets;
[22] Even the righteousness of God which is by faith of Jesus Christ unto all and upon all them that believe: for there is no difference:
[23] For all have sinned, and come short of the glory of God;
[24] Being justified freely by his grace through the redemption that is in Christ Jesus:
Faith in the shed blood of Christ:
[25] Whom God hath set forth to be a propitiation through faith in his blood, to declare his righteousness for the remission of sins that are past, through the forbearance of God;
[26] To declare, I say, at this time his righteousness: that he might be just, and the justifier of him which believeth in Jesus.
[27] Where is boasting then? It is excluded. By what law? of works? Nay: but by the law of faith.
[28] Therefore we conclude that a man is justified by faith without the deeds of the law.
[29] Is he the God of the Jews only? is he not also of the Gentiles? Yes, of the Gentiles also:
[30] Seeing it is one God, which shall justify the circumcision by faith, and uncircumcision through faith.
[31] Do we then make void the law through faith? God forbid: yea, we establish the law.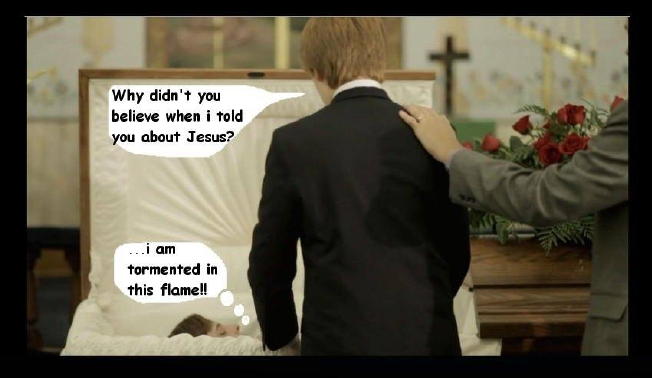 What about doing "good works" for our salvation?
- No works, whatsoever, are required on your part. You do not have to confess your sins, nor turn from your sins, nor do you have to "be good" to get to heaven, nor do you have to get baptized, nor stand in front of a congregation and give your testimony. You do not even have to confess to a friend that you have believed in Jesus, and put your faith in the blood. Just believe in Jesus, put your faith in the blood, and be fully persuaded that God will save you...because God said He would.
- For even the smallest work on your part, will send you to Hell, if you are trusting your works for salvation.
Romans 4:4-5 (KJB)
[4] Now to him that worketh is the reward not reckoned of grace, but of debt.
[5] But to him that worketh not, but believeth on him that justifieth the ungodly, his faith is counted for righteousness.
No works of righteousness on your part will ever save you, or keep you saved!
Titus 3:5 (KJB) Not by works of righteousness which we have done, but according to his mercy he saved us, by the washing of regeneration, and renewing of the Holy Ghost;

Salvation is a Gift from God:
- it is a gift of God:
Ephesians 2:8-9 (KJB)
[8] For by grace are ye saved through faith; and that not of yourselves: it is the gift of God:
[9] Not of works, lest any man should boast.
- Definition of a Gift: something voluntarily transferred by one person to another without compensation - "without compensation" - no "work" on your part.

God is not imputing (charging) you for any of your sins, for they were are laid on Christ, and on His acoount (most do not believe this):
2 Corinthians 5:19 (KJB)
[17] Therefore if any man be in Christ, he is a new creature: old things are passed away; behold, all things are become new.
The "new creature" does not mean our old sinful life has passed away. We are still the same old sinful person we always were.
It means you are a "new creature", the church the Body of Christ.
Your life is hid in Christ, once you are saved.
Colossians 3:3 (KJB) For ye are dead, and your life is hid with Christ in God.
[18] And all things are of God, who hath reconciled us to himself by Jesus Christ, and hath given to us the ministry of reconciliation;
[19] To wit, that God was in Christ, reconciling the world unto himself, not imputing their trespasses unto them; and hath committed unto us the word of reconciliation.
[20] Now then we are ambassadors for Christ, as though God did beseech you by us: we pray you in Christ's stead, be ye reconciled to God.
[21] For he hath made him to be sin for us, who knew no sin; that we might be made the righteousness of God in him.

Whether one is saved or not, one should live a good, honest life. An unsaved person can even do this.
While on this earth, one will never live, entirely, without sin.
Romans 6:4 (KJB) Therefore we are buried with him by baptism into death: that like as Christ was raised up from the dead by the glory of the Father, even so we also should walk in newness of life.
Titus 2:11-12 (KJB)
[11] For the grace of God that bringeth salvation hath appeared to all men,
[12] Teaching us that, denying ungodliness and worldly lusts, we should live soberly, righteously, and godly, in this present world;
All Bible verses are from God's perfectly, preserved, Word, without error, as found in the King James Bible, 1769 Edition, God's Word for us, today.
Why not put your belief, faith, and trust in the Lord Jesus Christ, today!

How I was Saved:
While watching a Gospel program on TV one Sunday morning, i realized i was a sinner on the way to Hell.
For the next eight months i did every thing i could to understand what i needed yo be saved. I learned that Christ had died on a cross for my sins, but i could not understand what i had to do to be saved.
I never knew what a Christian was, or even what a Christian church was, so my only resources was Gospel programs on the TV and the radio. I had bought a Bible and was reading it, which confirmed to me that i was a sinner, bound for Hell.
I tried to do what i had heard on these Gospel programs, to be saved, like praying the sinners prayer, accepting Christ into my heart, surrendering my life to Him, opening the door of my heart, asking and pleading with Him to save me, and trying to turn from my sins (which was impossible), but all was in vain.
This went on for a couple of months and i reached a point where i didn't think i could be saved, and i was staring at Hell in the face, and eventually i reached what one would call, "the end of my rope".
Then it happened. One night i was listening to a Gospel program, and the truth hit me that all i had to do was believe in Jesus, and put my faith in His blood. That is what i did, and i knew i was forgiven of all my sins, and i knew i was saved. This was 23 years ago, and though i failed many times in my Christian walk, i have never doubted what Jesus Christ has done for me on the cross, 2000 years ago.

The following audio studies was what i was listening to, when i finally got full assurance of my salvation. I couldn't do it...Christ had to it all for me!
(To download: right click and click "save link as" or "save target as")
Gospel of Our Salvation Part 1
Gospel of Our Salvation Part 2
Gospel of Our Salvation Part 3
Used with permission from:
Enjoy The Bible Ministries

Because of Christ's finished work on the Cross, 2000 years ago, your sin debt has totally been paid for on your behalf, and you are forgiven the moment you believe in Jesus, after putting your faith in His blood, being fully persuaded!
I have trusted Christ as my Lord and Saviour!
My testimony of Christ confirmed in me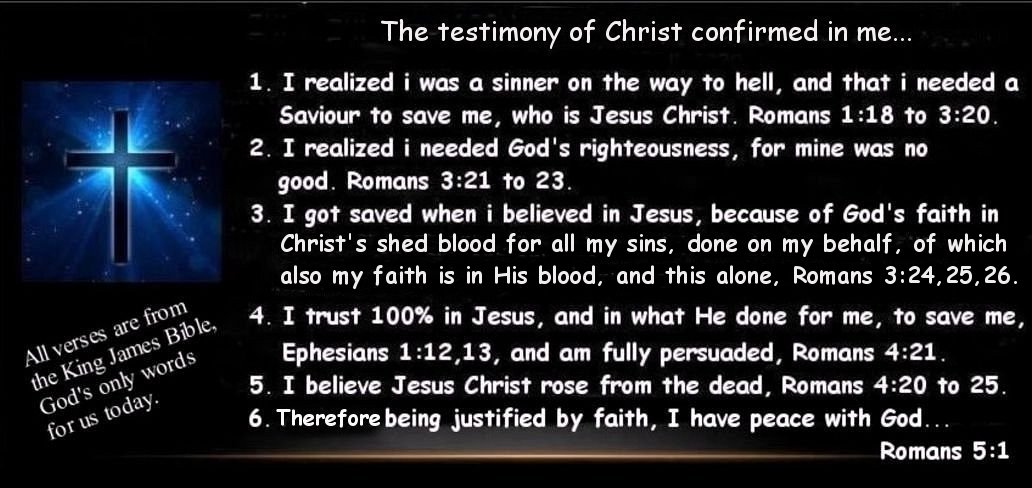 Barry Chantler
Email

In conclusion:
I really had a hard time with getting saved...and it did not have to be this way.
I knew i believed, but i knew i wasn't saved.
So, eventually i just ended up trusting Christ and Him alone, and then i felt saved, (it was a lot more dramatic then i can make it sound), but then i could never get any assurance that i was actually saved.
The Gospel of John, and 1 John, gave me no assurance at all.
So, for a time i just kept searching, for what i just wasn't sure.
It wasn't until i met up with those preaching the Grace Gospel, and teaching "right division", when it all come together, and i never had to search anymore.
All along, i needed to know was that ALL my sins were forgiven at the Cross, and that i was ALREADY forgiven.
If i had to ask and plead for forgiveness, like i was doing, i knew i could never be saved, or have any assurance of salvation.
Christ had to do it all, for me...and all i had to do was believe in Jesus, and trust what He had already done for me.